My mother went through a phase of interest in buying and reading cookery books about wholefoods and vegetarian cooking.  I also remember being dragged to Cranks in London around the same time. The thought of only eating vegetables and brown rice never really appealed to me but I can't deny that wholewheat bread and salad experience at Cranks did set me up for loving wholefoods.  There is nothing like a 7 grain loaf to cheer me up.
A few weeks ago I had an urge to make a wholesome cake – something that would give the sweet kick but have a certain weightiness about it.  My immediate thought was to launch into one of my many ginger cake recipes but even that wouldn't have been weighty enough.  Trawling through my recipe books my eye caught a photograph in the Ottolenghi Cookbook of a muffin that looked suitably wholefoodie.
It was only on closer inspect of the recipe did I realise how much punch this muffin would pack.  Not just a wholesome muffin but a topping of seeds and oats.  Double whammy!
But before you switch off and go look for a recipe with more refined credentials stick with me.  For this is a muffin that not just packs a wholefood punch but it's delicious.  So moreish you wouldn't believe.  In fact, these so called healthy and wholesome muffins could prove ruinous to even the most self-disciplined glutton.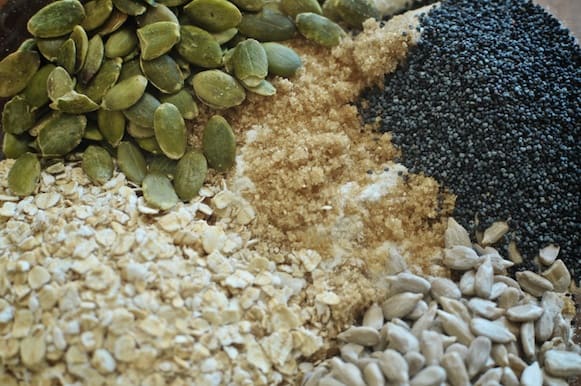 The best advice I can give about this recipe is to clear the decks and line up the ingredients first.  There are a lot of them.  First you make the topping then you launch into the muffins which are a breeze in comparison.
Topping: 50g unsalted butter cut into small pieces, 75g plain flour, 25g muscadavo sugar, 50g rolled oats, 15g sunflower seeds, 25g pumpkin seeds, 15g black sesame seeds (I cheated and used poppy seeds), 1 teaspoon water and 1.5 tbsp honey.
You make the topping by rubbing the butter, flour and sugar together as if you were making crumble.  Then mix in the seeds before stirring in the water and honey.  Resist the temptation to snack away at the topping whilst you get the muffins underway.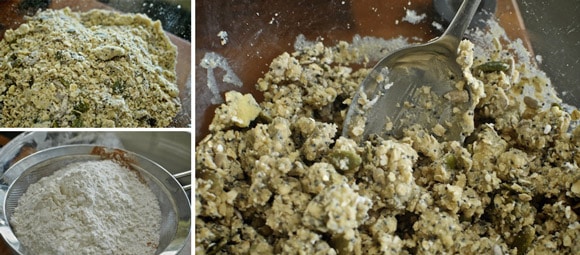 Again, get your muffin ingredients all together before launching into the final mix which takes only a couple of minutes.
Muffins: 300g plain flour, 2 tsp baking powder, 2 tsp ground cinammon, a pinch of salt, 4 eggs, 160ml sunflower oil, 280g caster sugar, 2 tsp vanilla essence, 220g peeled and grated carrot, 200g peeled and grated apple, 100g pecan nuts roughly chopped, 100g sultanas and 50g flaked coconut.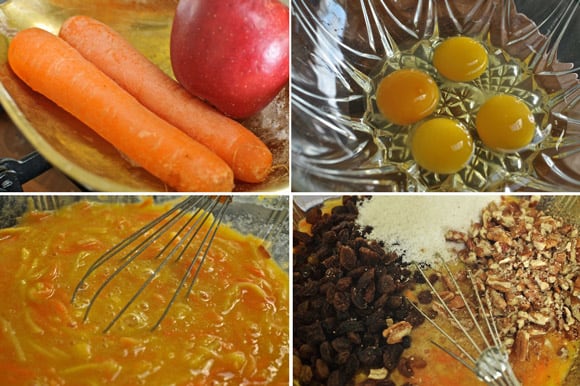 Oh, almost forgot, pre-heat the oven to 170 degrees C and line a muffin tray with paper cases.
Sift together the flour, baking powder, cinammon and salt into a large bowl.  In a separate bowl, whisk together the eggs, oil, sugar, vanilla and grated carrot and apple.  You'll end up with a colourful batter. Then gently fold (muffins don't like to be messed with) the pecans, sultanas, coconut and then the flour mix.  Don't over mix, just combine and don't worry about the batter being lumpy.  Then spoon into your muffin tins.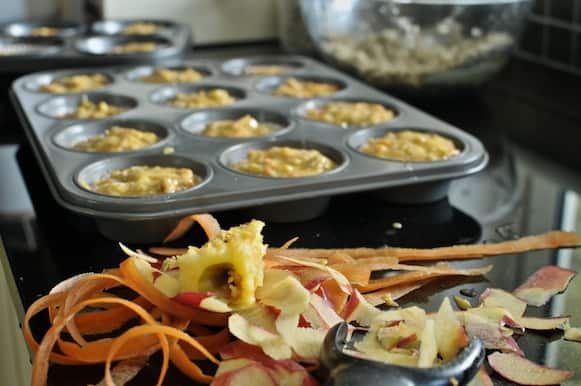 Now for the crowing glory – scatter the topping mix generously over the muffin mix. Before baking for about 25 minutes or until a testing skewer poked in the centre comes out clean.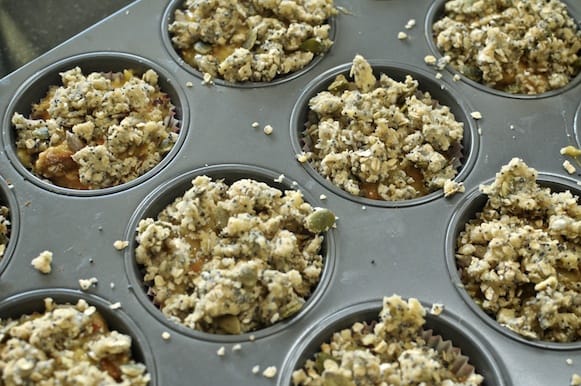 It's at this point I always worry about whether my cakes will come out of the oven anything like those in the picture of the cookery book.  See what I mean about it looking wholesome.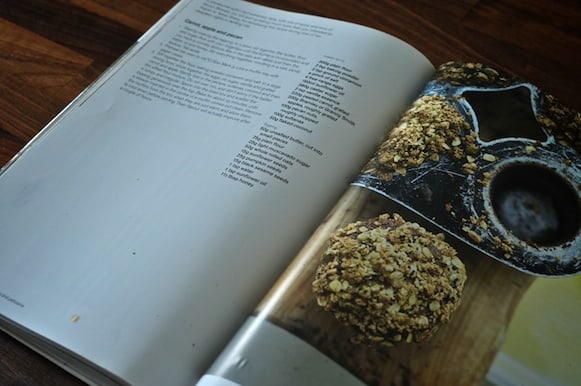 The final result was as close to the book as I was ever going to get it without scratching and scraping at my muffin tin although could have managed a few more minutes in the oven.  I was by this point in a total hurry to eat them as the smells wafting around the kitchen were almost too much to bear.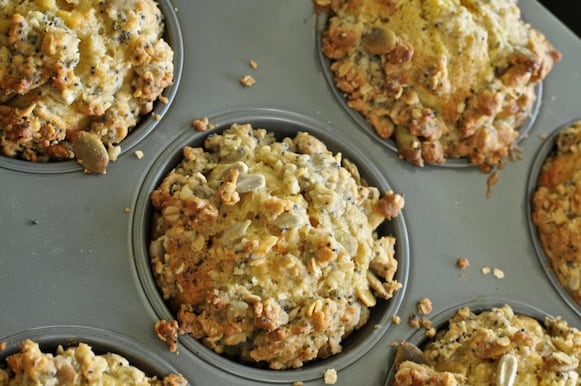 After a few minutes cooling we cracked open one of these beauties and I was smitten.  But this love affair was nothing compared to what happened when they completely cooled down.  That true wholefoodie depth of flavour and earthy weightiness came flooding through.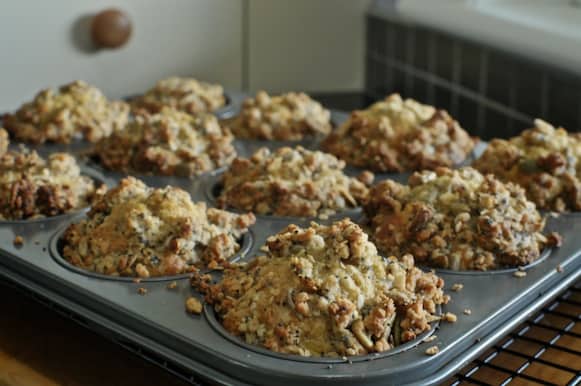 I confess.  Such was my hurry to scoff one of these I forgot to take the concluding photograph.  So you'll have to use your imagination.
These muffins may look unassuming but the length of the ingredients list makes you realise that these are packed with goodness, flavour and suitable cake naughtiness.  I dare you to try them and see for yourself.