George, my mad rooster, can be relied upon to supervise his harem.  Usually.  He was a bit tardy in his efforts yesterday and once again Chloe was missing when it was bed time last night.  This is not the first time she's gone missing so I wasn't too worried.  I just hoped that she'd come back soon and not stay away for a few days like she did last time.
True to form she was back again this morning although she got herself stuck on the wrong side of the fence.  It's not a safe place for a chicken with the bassets around.
If I were a chicken I wouldn't mess with George.  He's got a mean look if you ask me.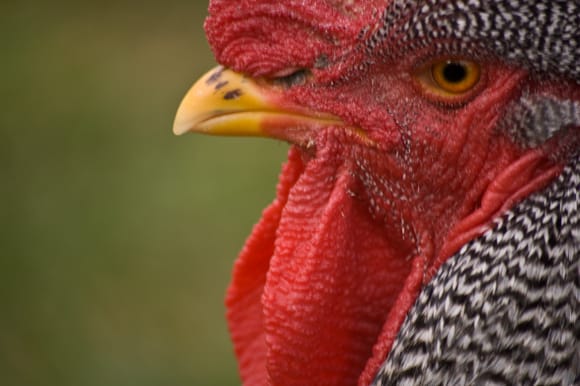 Edit Post ‹ Domestic Executive — WordPress
He's a big chap our rooster.  He's certainly not missing out on his fair share of food.  In fact, I'm having to chase him out to the bush and separate him from the hens when I put their left over goodie tray out for breakfast otherwise he'd scoff the lot and peck the hens to keep clear.  What a gentleman eh?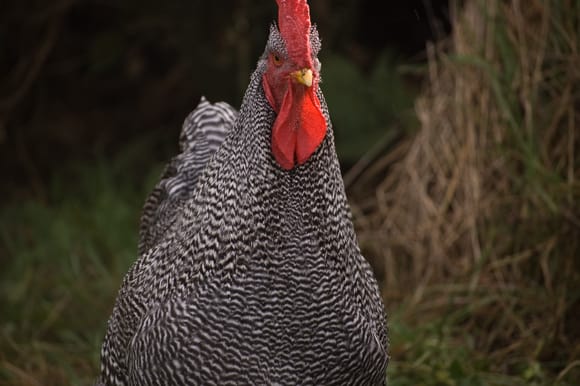 He is no doubt a handsome and wholesome rooster.  He is still able to keep me on my toes.  I don't take many chances when George is on the charge.  He reminds me of the characters in Chicken Run the movie. Big chest and chubby legs.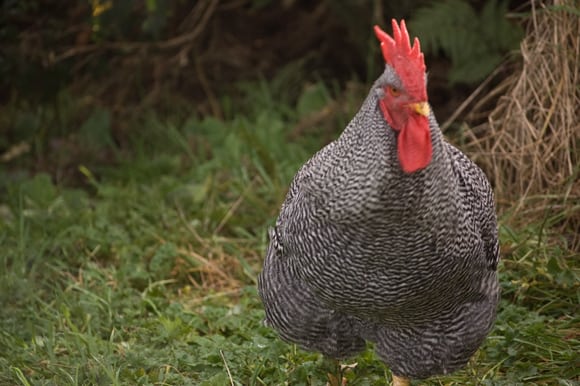 Talking about cartoon characters, I've finally named the two little brown chickens.  Beep and Beep.  As in the Roadrunner.  They scuttle around the pen and bush avoiding me and anything else that moves.   They also squawk a great deal and since I can't tell them apart I figured the same name was apt.
Here's Beep (1)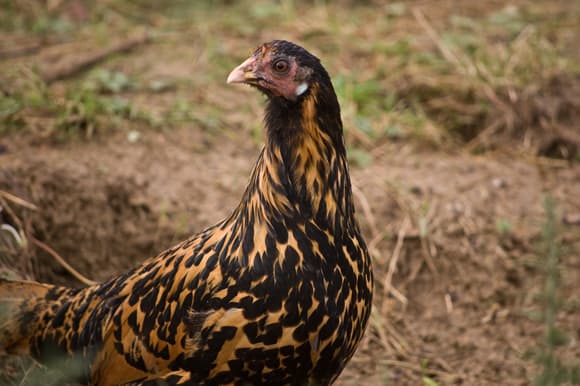 And, Beep (2) – they are lovely looking chickens.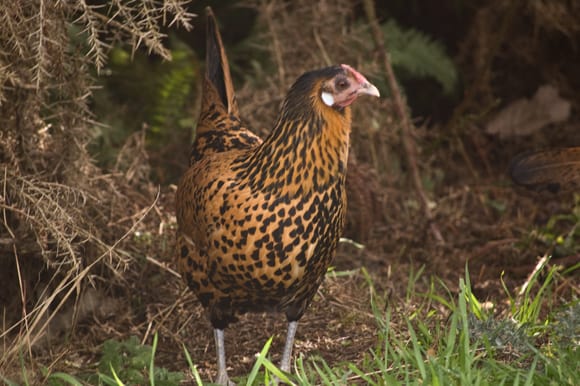 The Barred Rock hens are finally growing their feathers back and starting to look beautiful again.  They are much bigger chickens and have wonderfully fluffy bottoms at the moment.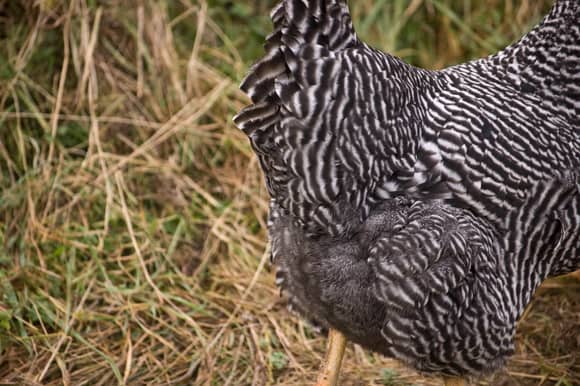 Although it takes a while to perfect this fluffed up look.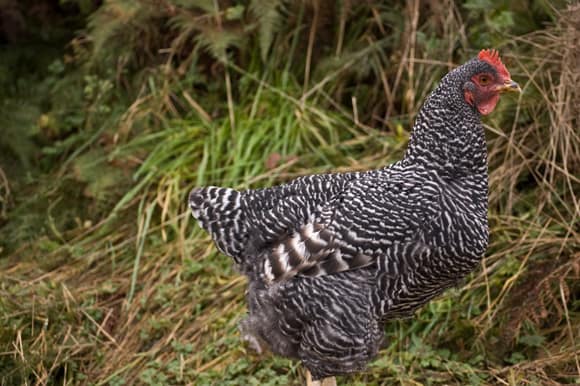 Nevertheless it is much more pleasant to see them looking bright eyed and bushy tailed, despite the rotten weather.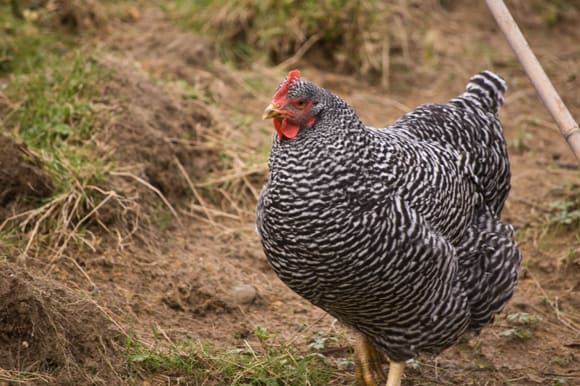 But here's the star of today's show. Chloe is a little shy.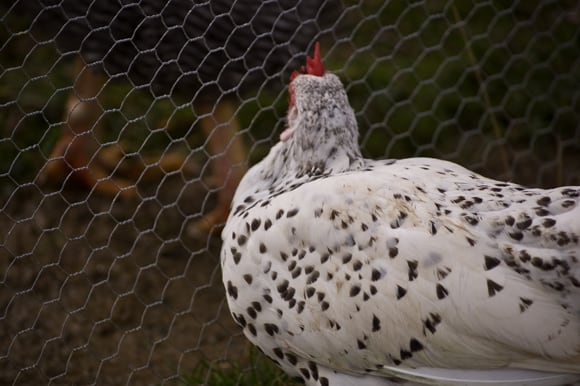 But I do love her white speckled look.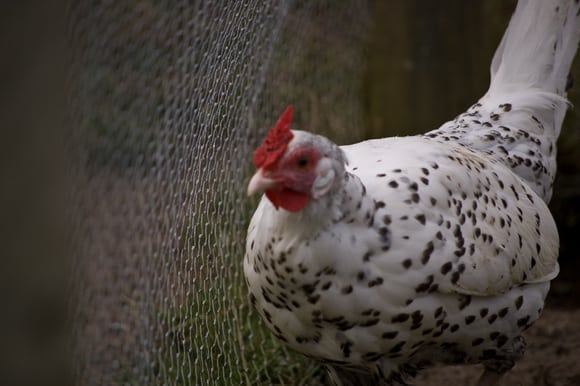 But I love what she left me this morning after her night away hiding in the bush.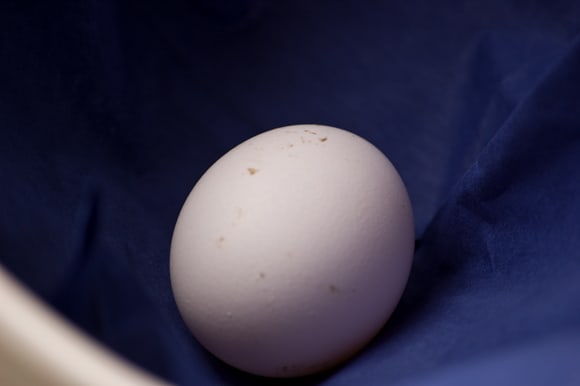 Her first egg.  Carefully left by the hen house door on account of the fact the chickens were still locked in and she was locked out.  Way to go Chloe.
Eating eggs bought from the supermarket just hasn't been the same.  They may be free range organic but someone they don't taste quite as good as the eggs when get from our own chickens.
I still get a thrill picking up the eggs and today's was a particularly good feeling since it was Chloe's first.  Oh what a sheltered life I lead – cooing over hens eggs.  Whatever next!
SNAPSHOTS FROM

One Year Ago: Mammoth Gorse Harvest

Two Years Ago: Domestic Fit Out