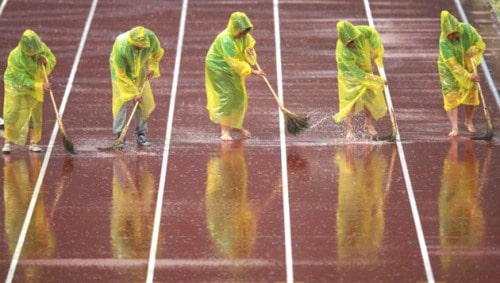 I was contemplating a post about the Olympics which has been capturing our attention for the last two weeks.  Forming thoughts about the medal winners, the ceremonies, the spectacles, the glories.
Every time I think of the Olympics, I also recall the nightmare of my assignment in my degree on the "Five Ring Circus" politics and sociology of the Olympic games.  What, you might think! 
My first degree was BA (Hons) Leisure and Recreation studies.  My husband jests I'm a graduate in throwing, running and catching.  At the time, early '80s, I was a sports mad girl looking to spend my day what I loved most – sport. Anyway, I digress – my career in sports and recreation is a whole blog in itself.
Back to the Olympics.  After doing a bit of research I came across the most fantastic summary of Olympics at it's best saving me the trouble of duplicating any of the millions of words and pictures published on the Internet.  Here's something to brighten your weekend!