Arriving in Hong Kong is always an adventure for me but this time it was different.  This time Hong Kong is all about pleasure.  No meetings to be had.  No days spent in offices and taxis.  At last I am a tourist in this exciting and exotic city.
That did of course mean finding my own way to the hotel rather than being met at the airport by a man with sign with my name on.  Setting my own itinerary rather than following one prepared in advance.  This opens up exciting new possibilities I was pleased about.  I will admit though Apart from booking the hotel I wasn't terribly well prepared for my arrival in Hong Hong but that wasn't going to stop me having fun.
As far as I am concerned Hong Kong is about bright lights, shopping and hustle and bustle.  With only a few hours to spend I wasn't sure how we were going to do it justice.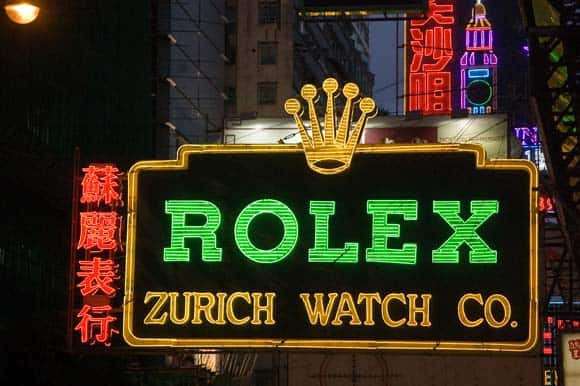 Our plan is to keep focused.  To do a few things and enjoy them all rather than dash about like crazy and not be able to savour the east meets west capital of the world.
After a smooth arrival from the airport and a short rest from the overnight flight we set forth to enjoy the evening lights. Hong Kong is alive 24 hours a day but it seems to increase the tempo after dark.  The neon lights pulsate and compete for you attention as do the myriad of shops, restaurants and bars.   We resisted all these and made for the waterfront to catch the breeze and marvel at the skyline after dark.
Oh and to attempt to capture the spirit of Hong Kong with my camera.  Near impossible without a tripod. I was however able to snap a familiar sight in a Chinese city.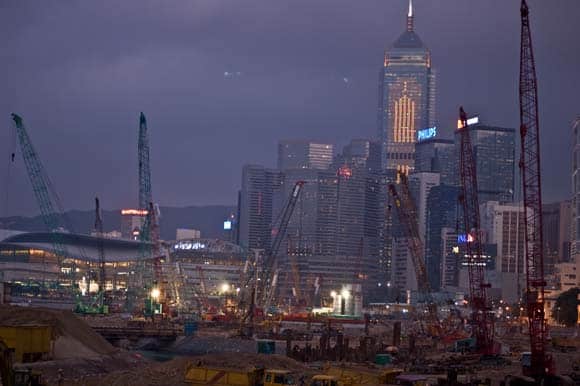 Yes, you guessed it – building works.  Like Shanghai Hong Kong is growing and building, particularly close to the harbour where there is just a square inch left to develop.
But I wasn't interested in building sites.  I was moonstruck – captivated by the night skyline and how it towers over everything.  The neon lights even out shone the moon.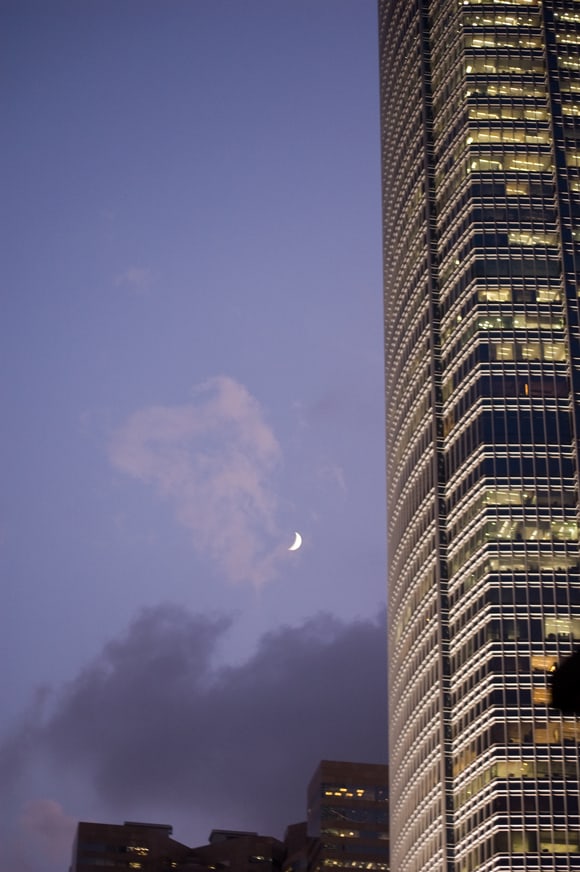 It's hard not to admire the audacity and ambition of Hong Kong.  For the first time ever I was able to stop, sit and enjoy the view from a bench by the harbour. It was pure magic.