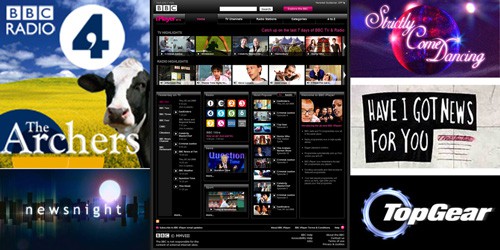 One of the Christmas traditions I remember as a child was getting the Christmas edition of the Radio Times delivered and spending ages pouring over the pages picking out all the things I was going to watch on TV over the holidays.  I was particularly to the movies and could sit and watch the old favourites – White Christmas, Lassie, Bugsy Malone over and over each year.
But that was the days before video recorders, DVDs and internet broadcasting.  How festive home entertainment has changed.
Here in New Zealand we hardly ever watch terrestial TV.  The amount of adverts make it a painful experience so anything we do watch we record and then play it back so we can skip through the ads.  We have sky for sport and news.  Oh, OK I'll admit it, also the lifestyle and food channels and UK TV.  The rest of the other zillion channels I could frankly do without.
We've watched some excellent DVDs this year.  Here's my top 10 picks.
ER – I'm addicted and watching the whole lot (I'm up to the series where Doctor Green has just died).
The West Wing – Season 3 (again) although we have the final series we've still not watched
Cranford – a BBC costume drama which all the thesps in it
Wild China – one of the most fascinating and enjoyable documentaries about wildlife in China
Michael Palin in Europe – easy viewing with our intrepid traveller
House – I've got hooked this year and needed to go back to season 1.
Party Animals – a political drama that was fun for a Friday night
Geoff Hamilton's gardening archives – inspiration for our kitchen garden
Five Days – a gripping drama about missing children and their mum
Prime Suspect 7 – Dame Helen at her best.
You'll notice there aren't many movies in this list.  In fact, none at all.  We're not movie DVD people.  Don't know why.  We do have lots of movies on DVD but we've gravitated to series which make for enough TV on an evening.
Recently we've stepped up our technology and started to watch more BBC programmes and just caught the tail end of the Strictly Come Dancing series.  Good wholesome entertainment that never hurt anyone although can keep you in suspense as celebrities strut their stuff.  MT has been saying Internet TV is the future of broadcasting and it's nice to know we're already enjoying it.  We have to be selective about what we download as we don't have endless bandwidth but it's enough to satisfy my Strictly addiction and the news and current affairs that MT has really missed.  There is nothing better than settling down to watch Have I Got News for You.
So this year instead of looking through the Radio Times for festive viewing it's going on line and checking out the IPlayer instead.  And, there is a Christmas Day Strictly Special so that will be enough for me!
Oh, if you're wondering how we do it.  I can't tell you.  Not because I don't want to but I simply don't know.  With vegetables to worry about I leave the technology to MT.  All I know is it's legal and involves a cunning route and 10 GBP per month.
So are you ready for your festive viewing – what are your top 10 picks?