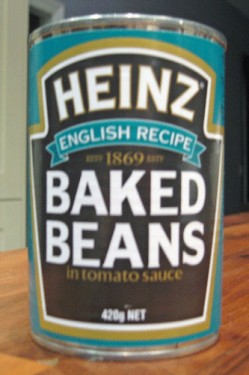 There are some things you need when you're feeling unwell.  One of the is food that will comfort you.  Imagine my delight when I found out that my dear husband had snuck one of our favourite comfort foods into the shopping trundler as we stocked up on our holiday provisions.
Although we're now having staycation no sense in wasting the goodies.  Also it would do much to help my aching body.  Feed a cold and starve a fever I think the saying goes.
You may be wondering why the obsession with beans.
Here in kiwi land the staple beans brand is Watties.  Incidentally also owned by Heinz.  You could be forgiven for thinking that's ok you'd get the same product just with a different label.  Oh how wrong you'd be.
Watties are just not the same.  Sweeter, more sickly and just all round less satisfying to eat than the real thing.  When I opened the can to heat them up Heinz beans just smelled like beans should.  Watties don't really smell and they are a worrying shade of orange too.
Anyway, suffice to say we enjoyed our comfort food on a night when we got the tail of the mega storm lashing New Zealand.
It did get me thinking of all those things I miss of home from a food perspective.  The things I miss most are those British staples that just hit the spot.  Here's my top 10 of things I miss on my shopping trip
Piccalli pickle
Branston  Pickle (you can get it but only the chunky kind not the small chunk specially for sandwiches)
Robinson's barley lemon
Dark chocolate digestive biscuits
Rich tea biscuits
PG tips tea bags (again we get them here but they are really not the same)
Walkers crisps
Gammon slices (I know but they are back with the retro food rage)
Shreddies cereal
Anything from Waitrose – especially aromatic crispy duck with pancakes!
I can however live without such things and have even come to tolerate Watties beans.  They may be trying to con me with the packaging but I'm not buying it!
What are the sorts of things you miss most about being away from home?  Go on, do tell.  This girl needs something to cheer her up!