Little did I know when I read this article last Friday evening that I would soon face the question of what I would do to save my dog.  Within 24 hours it was no contest, I would have done whatever it took to make things better for Fortnum who was poorly like I had never seen him before.
I don't want to get too graphic about what was going on but suffice to say it involved blood, guts and a conversation with the out of hours vet.  In a state of mild hysteria I explained that no I wasn't just "concerned" about his condition but I was freaking out and as neurotic dog owner needed to know if my dog might die imminently.
I could hear the vet's eyeballs roll back and he take a deep breath before launching into his best reassuring spiel of what look for before deciding to cart my ailing basset to the animal hospital.  Is he lethargic and sleeping a lot? "Of course not, that's why I'm so worried." I recall shrieking, "That's the way a basset hound should be.  He's agitated, unsettled, pacing manically and performing bodily functions every two paces."  All this followed an earlier stressful visit to our local vet where Fortnum cut to the chase to demonstrate his symptoms first hand and put on a biological show of epic proportions all over the vet's linoleum. After a swift anti-vomiting injection, I was bundled off with a pile of antibiotic medications to dose him up and instructions to call the out of hours vet if he got any worse.
This was like no ordinary gastro problem I'd encountered before and for several hours and I feared for the life of my Big Basset.  Then suddenly the medicines kicked in, the relentless pacing stopped and he lay down on his beanbag on the veranda and went to sleep.  We covered him up with a blanket and watched every breath he took and every shiver he made. After an hour or so he got up and wandered down the garden to find me as I put the chickens to bed.  If I was a stronger person I would have scooped up all  his 30 plus kg and carried him back to bed but instead I coaxed him back up the hill, refilled the water bowl for the umpteenth time and helped him back onto the sofa where he went back to sleep for 14 hours solid.
Either the magic of veterinary science, the conversation I had with my guardian angel or a bit of both delivered us a tired, sore and still weak basset hound the following morning.  But at least it was a basset hound who ate something, drank heaps and finally wagged his tail back at us. Another 24 hours later he barked, stomped his foot when you rubbed his neck and ran a few paces up the drive. Four days on from the height of this canine crisis all the signs are that Fortnum is back to his normal self and wondering when I will stop ramming tablets down his throat and he can have his normal food reinstated.
Our beloved Big Basset suffered a nasty bout of Hemorrhagic Gastroenteritis.   It's not the first time that I've felt like a neurotic pet owner at the vets but when it comes to the health and well-being of my fur family I'll do what it takes to make sure they are taken care of. Had he not drunk so much water and finally settled to a restorative sleep we would undoubtedly have had him hospitalised but thankfully it didn't come to that. Instead we watched him like a hawk and on Saturday night, the second night in a row, the bassets and I hunkered down together on the sofa for the night.
Sleeping with my hounds it's not something I want to repeat often. Aside from the obvious preference for them to not be ill, Little Basset demands too much of the duvet and has a tendency to want to press his butt end too close to my face.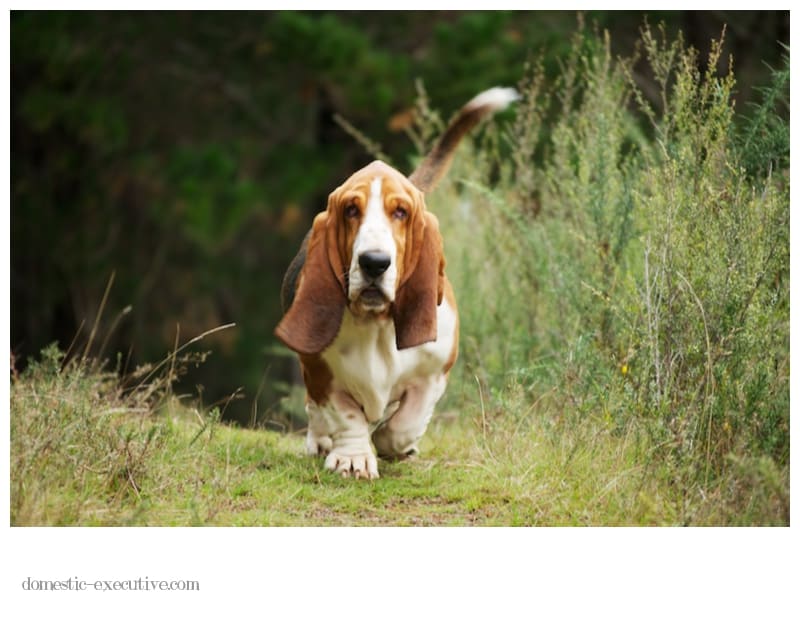 In celebration of Fortnum's return to normality I've updated the basset gallery with the images from October's Basset Calendar. Enjoy.