I fully intended to celebrate Big Bassets homecoming from his day trip to the vets with some portraits at home.  The weather has conspired against me and it's howling a southerly and raining so I'm cheating and using some photographs taken by my father in law on our Christmas Day walk at the beach. He was using my other SLR camera and it's reminded me of how remarkable that little camera is.  I digress.
We've become something of a regular visitor to the vet's over the last year with our bassets – eyes, ears, skin and leg limps.  Our vets are delightful though and always eager to help and generous with their time as they carefully explain all the possible health challenges of a basset hound.  Over time I have become increasingly worried about Fortnum's lameness although he doesn't seem too bothered by it himself.  Over the course of the year he's gone from occasional limping after hooning around to getting stiff when he's just been lying around.
To cut to the chase, Big Basset is showing signs of early arthritis.  I'm devastated for him – he's only 3 years old and he loves to run around – this is not good news.  But we're on the case.  First we're feeding him a special diet which has extra Omega 3 fatty acid, EPA to help strengthen his joints and nourish cartilage.  If this helps, and we'll know within a month, then the prognosis is good for the short to medium term. Bassets are prone to deterioration of their bones – it's an expected side effect of their dwarf characteristics.  As a large basset Fortnum has suffered early than you might expect with his stubby little legs taking a real pounding as he leaps and bounds bearing 30+kg as he goes.
Aside from the lameness, he is otherwise his usual happy go lucky fun loving basset and unlike Little Basset is a total show off when the camera comes out.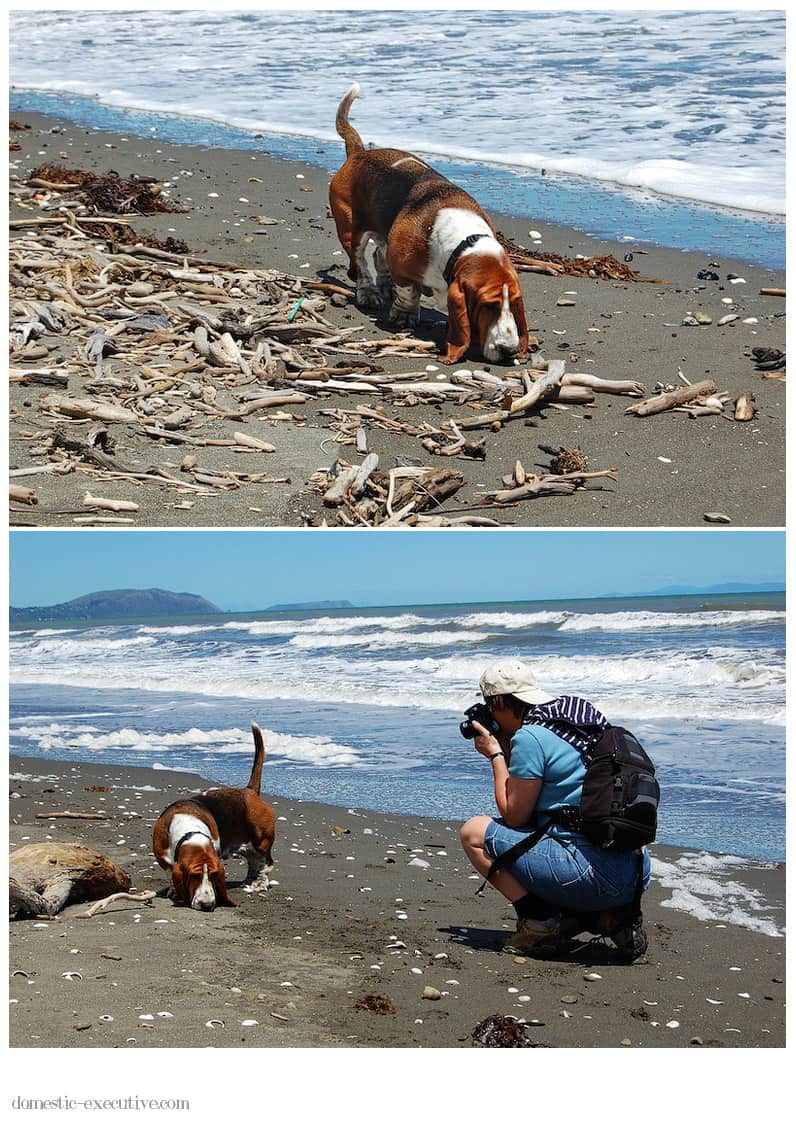 If I'd wanted an easy time I shouldn't have brought to bassets into my life.  I'm not known for taking the easy route and wouldn't be without our basset pack for anything now.  I'll make as many trips to the vets and do whatever we can to make sure that they stay happy and healthy as you would with any other member of the family.  Pet insurance helps too!
We love our bassets equally – they are two such different characters and can lavish affection and annoyance in equal measure.  I like these photographs of our fur family – they are a rare commodity since I spend most of the time taking the photographs in our household.  So thanks to my father-in-law for taking these for us.